Infant Formula Recall
posted: Mar. 04, 2022.
---
Dear Johns Creek Pediatrics families,
As many of you are aware, there was a recall of several infant formulas, including some types of Similac, Alimentum, and Elecare. Please check the following link for specific info about the formulas that have been recalled and discontinue their use.
https://www.fda.gov/food/outbreaks-foodborne-illness/fda-investigation-cronobacter-and-salmonella-complaints-powdered-infant-formula-february-2022?utm_medium=email&utm_source=govdelivery&fbclid=IwAR3KcghhQhLq2BGxcKlTik3Is9M-u7GK5toD4yNiyvrVeSAI1q52vOtcgls
If you were using one of the recalled formulas, here are some good alternatives: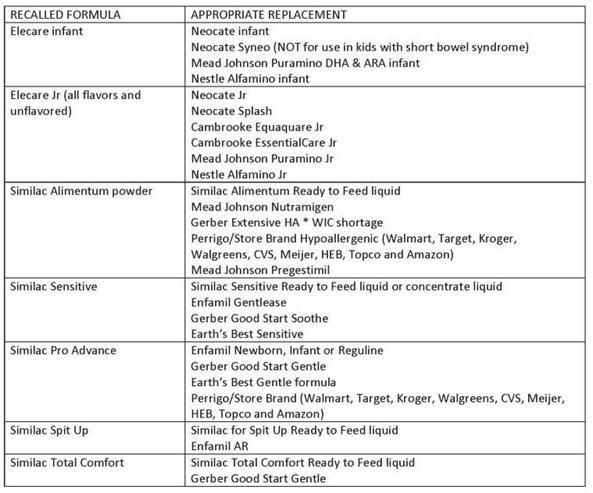 If you were using one of the recalled formulas, no testing is currently recommended for asymptomatic infants. If your child is well-appearing, we recommend that you discontinue use of the recalled formula and monitor your baby.
While very rare, symptoms of the associated bacterial infections include poor feeding, irritability, fever, jaundice, grunting breaths, lethargy, abnormal movements, new rash, or blood in the urine or stool. If you notice these symptoms or have other questions or concerns, please give us a call or portal message.
Sincerely,
Your JCP team